The Sustainable World Corporation Nigeria (SWC Nigeria) is raising the next generation of business people in a culture of righteousness and responsibility. They are building an ecosystem for business development, that is an "island of integrity" in a very corrupt society with huge social and environmental challenges to be addressed.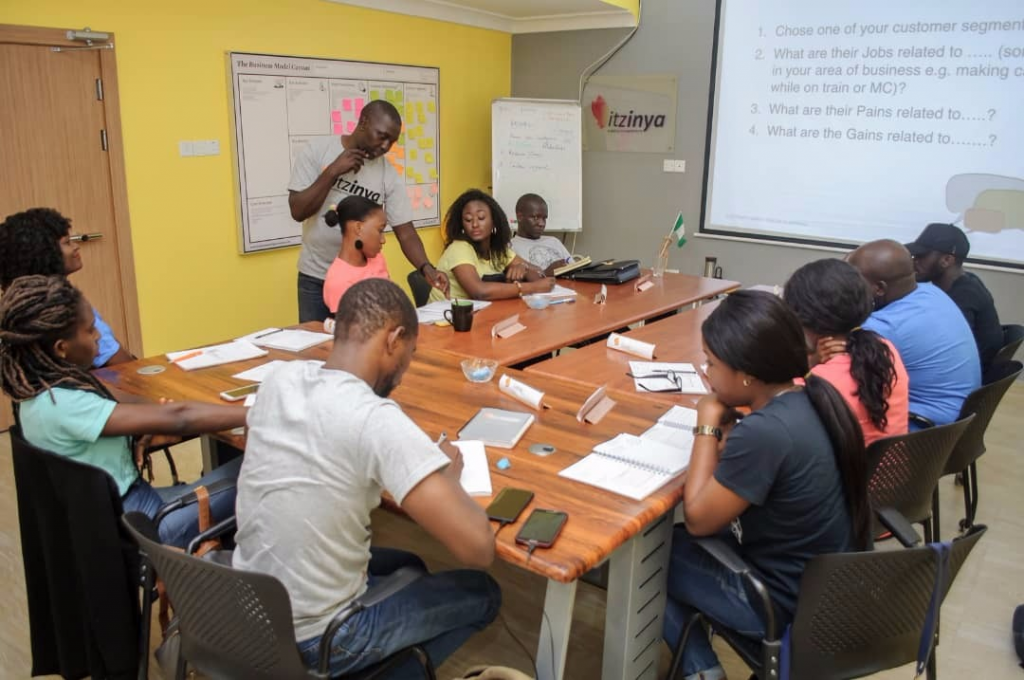 SWC Innovation Hub
The last few years the team in SWCorp Nigeria have gained a lot of experience and started important initiatives whereby:
➢ Each member in the team are running their own enterprises, hence have own experiences of opportunities and obstacles in business.
➢ Itzinya Start Up Academyhas been running for over two years resulting in over 80 young entrepreneurs embarking their journey in developing businesses, with 55 companies already started.
➢ Family business development workshops, coaching and research to build businesses that can be successful for generations
SWC Nigeria is developing a centre "SWC Nigeria Innovation Hub" to convene all businesses in the network to one physical hub with a view to train and coach entrepreneurs, incubate businesses and contribute to a flourishing local community of integrity, thus building a safe place where knowledge is shared and relationships are fostered.
The Hub will have 11 offices capable of hosting 15 to 20 companies and incubating about 11 business. It will also host local and international business activities like, the regular Itzinya startup trainings, the Itzinya pitch challenge, family business and business development workshops.
SWC Nigeria hires the building from the landlord at a good rate for five years. The cost for renovating it is an advance payment on the lease. This makes it possible for SWC to renovate it to serve the centre. After the five years there's an option to renew the lease.
Supportive business community
The centre will make sales from the rents that will be paid by the member companies, additional companies hosted and incubated in the centre and from training and conferences. For all the parties the centre provides cost savings and will add a lot of additional value by sharing services.
About Sustainable World Corporation
Sustainable World Corporation (SWCorp) Nigeria is a network company of the global group with the primary aim of building an entrepreneurial ecosystem for sustainable businesses through capacity building, business development and match making between Nigerian businesses and businesses in Sweden, other countries in Africa and Europe. SWC Nigeria in concert with SWCorp Sweden is building and supporting a connected community of business leaders across Africa and Sweden. More information https://swcorporation.se/
Investment offer
Naventure Nordic AB invites you to provide a loan for finalizing the building of the SWCorp Nigeria Innovation Hub. Presently, in November 2018, the renovation is halfway to completion. To complete the project SWC requires an additional 400 000 SEK.
By investing you will contribute in impacting the business environment in the Nigerian capital Abuja, facilitating more young entrepreneurs to get started in business and in building capacity to transforming business culture towards innovation and sustainability.
[wowslider id="22″]
Risks
Business in Nigeria always includes risks due to the volatile political and security situation and the weak institutions in the country. However, risks are kept moderate in this investment due to the payment of the loans being personally guaranteed by the five owners of SWC Nigeria Ltd. They all pay rents to the centre and have a legacy of having paid equal or higher rents in earlier locations.
Newsletters
Older newsletters
Newsletter 2020 Q1 Sustainable World Corporation
Newsletter November – Sustainable World Corporation Nigeria
Newsletter September – Sustainable World Corporation Nigeria
About the investment offer
Minimum investment: 10 000 SEK per investor
Size of loan requested: 400 000 SEK
Payback period: 5 years
Annual interest: 9 percent
Fees: No fees paid by the investor/creditor
The borrower SWC Nigeria will pay a one-time five percent facilitation fee to Naventure Nordic AB for arranging the loans and an annual management fee.